Glaciers and High Mountain Environments, 7.5 credits
GE5003 Glaciärer och högalpin miljö, 7,5 hp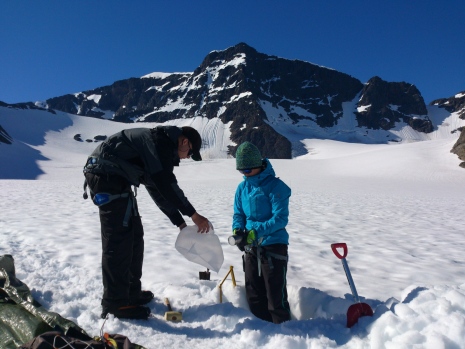 You will learn about those processes and landforms that shape our high mountain environment. The course consists of two parts:
Theory with letures, exercises, and reports (distance learning). Also includes reading of course literature in preparation of the field component.
A field component at the Tarfala Research Station, Kebnekaise (August 12 to August 22), with excursions, field exercises, and group projects involving the collection and analysis of field data.​
Please note that the field course involves long hikes and work during sometimes difficult mountain weather conditions. The course is given in English. The course fee is about 2700 SEK plus traveling expenses.
Note: This course is at undergraduate level (first cycle).
Language of instruction
English.
Duration
Summer term 2020. Study tempo 100%.
Requirements
Competence equivalent to at least 60 ECTS credits in Earth sciences or 90 ECTS credits in Geography. Swedish upper secondary school course English B/English 6 or equivalent.
Application
Application period for summer term: 20 February until 15 March.
• Applications are made via universityadmissions.se
Tuition fees only concern citizens outside the EU, EES and Switzerland.
Last updated: January 29, 2020
Page editor: Elisabeth Sturesson
Source: Department of Physical Geography