Southern peak of Kebnekaise, lowest height ever measured
The annual measure of the southern peak of Kebnekaise was done 3 September this year by researchers from Tarfala research station, which is owned and run by Stockholm University. The southern peak now stands at 2095.6 metres, 1.2 metres below the northern peak at 2096.8 metres.
Northern peak and southern peak
A glacier covers the southern peak of Kebnekaise and its height decreases due to the warmer climate. The northern peak on the other hand consists of rock, free from ice, and has therefore a more consistent height. The height of the southern peak varies approximately 3 metres between the summer and the winter. The peak is usually at its highest in May and at its lowest in September. Eventually, the northern peak will become the highest point in Sweden all year around.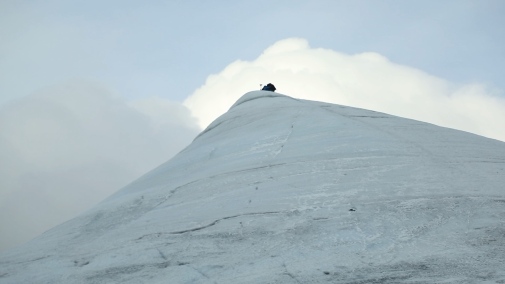 Lowest height ever measured
"This is the lowest height ever measured. Over the past 50 years, the height of Kebnekaise's southern peak has decreased by 24 metres," says Gunhild Ninis Rosqvist, Professor of Geography at Stockholm University and in charge of the annual measurements of Kebnekaise.
The measure was done using a GPS with only a few centimetres' margin of error. You can read more about the Tarfala research station here.