Hydrological data
The Rännan gauging station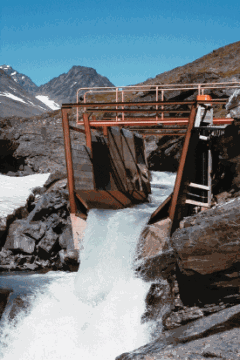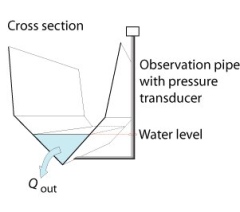 Rännan, the hydrological station measuring the discharge from the Tarfala drainage basin (photo and illustration: Peter Jansson)
The Rännan hydrological station is equipped with a
Geokon Model 4580
vibrating wire pressure transducer logged by a
Campbell Scientific CR-10X
data logger. The sensor is fixed in the observation pipe using a brass rod which is clamped at the top of the pipe to prevent vertical shifts of the sensor as sediment is pushed into pipe. A tipping bucket rain gauage and a Pt100 temperature probe i a Gill shield is also permanently mounted at the site. Data is logged throughout the year.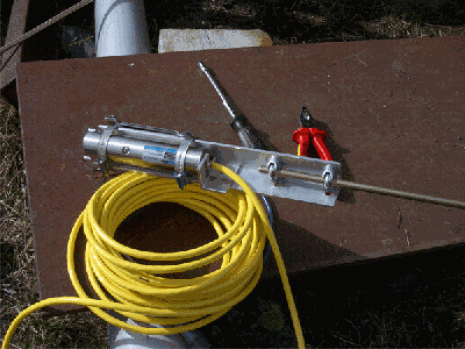 The pressure transducer mounted on the fixing rod (designed and mfg by Torbjörn Karlin; photo: Peter Jansson)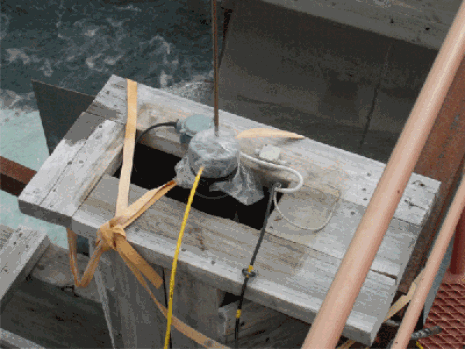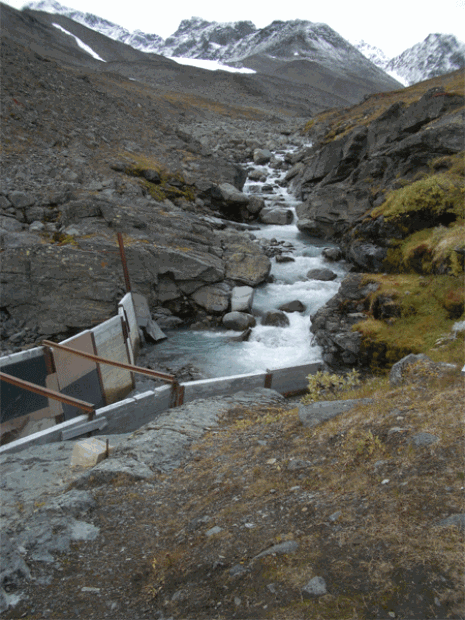 A look upstream of Rännan at low discharge (Sep. 2005, photo: Peter Jansson)
A short movie (AVI-format) showing fall flow in Rännan:
The Lillsjön gauging station
The Lillsjön gauging station is equipped with the same sensor and data logging equipment as Rännan (Geokon model 4580 and Campbell Sci CR-10X). The station is only in operation during the summer season (July-mid-September) since the out let from lake Lillsjön is largely frozen to the bed during winter. A Pt100 temperature probe in a Gill shield is also in operation during the same period. The Lillsjön station is located in a slightly modified natural outlet of a lake dammed by the terminal moraine complex of Storglaciären.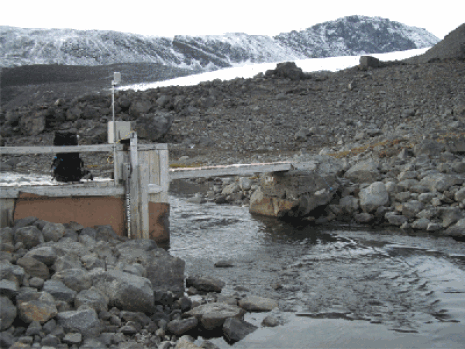 The Lillsjön hydrological station -upstream
The Lillsjön hydrological station seen from up-stream (photo: Peter Jansson)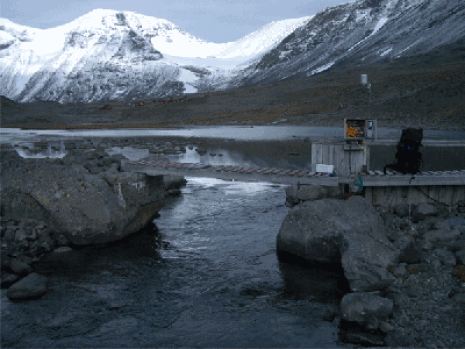 The Lillsjön hydrological station -downstream
The Lillsjön hydrological station seen from down-stream. Tarfala Research Station in the background (photo: Peter Jansson)
Senast uppdaterad: 25 februari 2015
Webbredaktör: Rolf Jacobson
Sidansvarig: Institutionen för naturgegrafi